Music in the video is the latest target of music industry. In order to protect the copyright (and hence the revenue), commercial music in video must be stripped or removed from the video, despite video creator has bought the music tracks. Facebook, the popular social networking site, remove right after upload the video which it deems might include copyrighted material owned by a third party, such as a video clip or background audio, while Youtube, the popular video sharing site, also remove the audio from the video.

Unfortunately, all rights clear or royalty-free music and audio is hard to find, or not as interesting or attractive to video creators. In addition, the royalty-free music or the cost to license the copyright of music works may be too expensive or out-of-reach to average end-users who create or generate contents.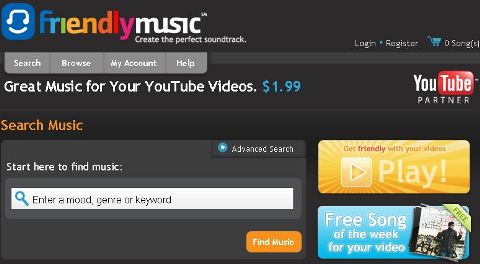 Good news is that now there is attempt to reduce the inefficiencies of the music licensing business for user generated content. The music licensing agency for wide range of businesses, Rumblefish has launched a new innovative music website for Youtube enthusiasts – Friendly Music, which provides Youtube, Facebook and any end-users an ability to buy a lifetime all rights clear music license that permits them to use a song or music as their video soundtracks.
"With today's technology, anyone can be a filmmaker," said Paul Anthony, founder and CEO for Rumblefish. "The perfect song can transform a simple video clip into a movie—an emotionally engaging story. We believe it should be easy and affordable for everyone to create great soundtracks to tell their stories. That's why we created Friendly Music."
With FriendlyMusic, interested video author or creators can search, purchase and download their favorite songs from artists and labels around the world, offering them a direct official music license for songs they use in their videos.
According to the company, Songs can be purchased at www.FriendlyMusic.com for just $1.99 per Youtube video. Friendly Music offers free song of the week which can be downloaded without cost.
While the music license is for lifetime, there are several restrictions though, which indirectly affect how video may be shared. The purchase allows you to use that song as part of the audio track of one video that you can upload to User Generated Content "UGC Network(s)" such as YouTube, Animoto or Photobucket, for non-commercial purposes only. In addition, the video can only be uploaded to one UGC website, although embedding the video on blog or other websites is allowed, but only through the embed code provided by the UGC website.
Watch the intro video for new Friendly Music: