Liquid Story Binder XE is a uniquely designed word processor and portable text editor for professional and aspiring authors, poets, and novelists to keep things organized. Essentially, Liquid Story Binder XE is a writing software by Black Obelisk Software for those who require the editing ability of a commercial text editor as well as a document tracking system.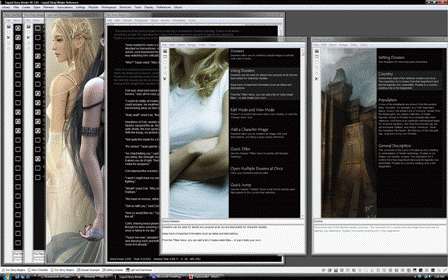 Liquid Story Binder XE Features:
All the standard word processing features such as spell-checking, thesaurus, smart quotes, templates, font and paragraph styles.
Chapter Builder for scene based writing.
Combine many small documents into a single, font-unified manuscript.
Multimedia organizer to sort pictures into image galleries or storyboards, quickly access custom MP3 playlists, and record reading of chapter using a microphone (audio recorder).
Organize novel with Book folder.
Change color scheme, save window positions and open files for quick and easy access using Workspaces.
Full screen editing
Advanced outlining tools included such as reference notes, timelines, plot outlines, dossiers, sequences and storyboards
Backup file for each chapters with an entry for each day's changes.
Can be installed on a portable flash card or USB drive.
WordWeb Integration
Universal search on every chapter, note, builder, timeline, storyboard, outline, dossier, sequence and backup for a single lost word or phrase.
Repetition Visualizer
Use simple file formats of basic TXT, RTF, and ZIP file formats guaranteeing future access regardless of software.
Compatible with Windows Vista.
Multi-windows display.
Time and word count tracking.
Paragraph and punctuation cleaning.
Project goals.
External editing.
Giveawayoftheday is giving away a genuine valid registration key for Liquid Story Binder XE 2.91 free of charge without any payment required, provided user download and install Liquid Story Binder XE today (July 18, 2008). The registration code costs $45.95 to purchase.
Download the free Liquid Story Binder XE version 2.91: LiquidStoryBinderXE.zip
Install the application and then use the following registration serial key number to register the software application into full version unlimited use product:
Registration Code: 25691-CA9AC-52361-A34T4-35033-33FF9
The latest version of Liquid Story Binder XE is version 2.92, which its 30-day trial without any feature limitations version installer can be downloaded from blackobelisksoftware.com as LSBXEinstall.exe. To get the latest version installed, or for those who miss the dateline and want to install in future or another computer, just download the latest trial version setup installer, and then use the registration key provided by GOTD to register the product.