Using USB host port to copy files to and from a computer is a fast and convenient way due to its plug and play capability. While many of us do appreciate this feature, there are situations where we need to lockdown USB port in order to protect your network against malware or prevent stolen of sensitive corporate or personal data. As such, NetWrix USB Blocker has been released as one of the solutions to prevent sensitive data from being stolen or malware/ Trojan from spreading through USB ports easily.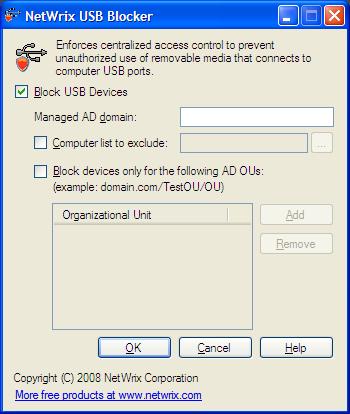 NetWrix USB Blocker is a freeware which is able to lockdown USB port remotely to prevent unauthorized use of removable media that connects to computer via USB ports like iPods, thumb drives, memory sticks, SD cards and etc. To lockdown USB port, it doesn't require any installation on client computers but instead, it is done through Microsoft Group Policy Management (GPMC) mechanism. As long as you have GPMC installed on the computer, you can perform the lockdown process to the client either locally or remotely.
NetWrix USB Blocker is user friendly but yet powerful tool. If you think this is suitable, just go and download it to safeguard your data from being stolen and unnecessary virus attack.