If you have recently upgraded to iPhone and is hoping to still able to have a widget-like Windows mobile based main menu, here is a great app that you can consider. Available in Cydia, it also means that you will need to have your iPhone jailbroken before you can utilize this.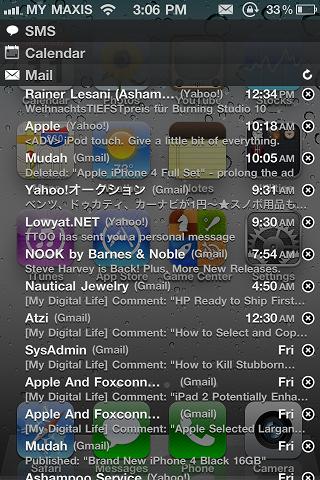 Basically, LockInfo will able to display all your information such as text messages, emails, calendars, push notification from all apps instantly on your iPhone lock screen. To start with it, just go to Cydia (assuming that you already have your iPhone jailbroken), search for LockInfo and then download it. On top of some basic functionality, LockInfo does support extra capability by having numerous plugins such as Lock Weather, RSS Feeds, 2Do, Twitter, Clock and many more that can be easily enabled via iPhone's Settings menu. Good thing is, each of these can be fully customized on how and what needs to be displayed and so on, giving you the most flexibility to personalize your lovely device, while providing quick glance of latest emails, text messages, push notification and even RSS feeds without the need to browse into sub menu.
While this seems to be pretty useful for all, but it may expose certain data unnecessarily especially when you left your iPhone or lost it that have brought up security concern to some users. Another drawback is the app is not free and costs $7.99 which is not cheap at all, but users can get a 14-day trial period before deciding to purchase it.