When you are in the midst of running some programs or editing your documents in your PC but suddenly somebody urgently seeking to borrow your system for quick usage, you probably don't want any of them to interrupt the running program or be able to view the confidential documents. What we normally do is either terminate the running programs or close all confidential documents before passing to them. But now with this tiny utility named as LockThis!, instead of closing all of them, you will be able to protect those running programs or documents and prevent them from being accessed by third party without permission.

LockThis is a nifty utility that is able to password protect any running programs or documents so that other people will not able to maximize to view, modify or terminate it. Once you have gotten it installed and launched, it will stay at system tray silently. To password protect any running programs or documents, you need to activate the process by right clicking on the tray icon followed by Activate!.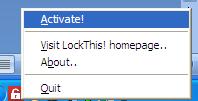 Once it is activated, you will notice that the color of the tray icon has been changed from red to green. Just press Ctrl key while minimizing programs or documents, then a small window will pop up and prompt for password. Enter password and confirm password then click on OK button will do.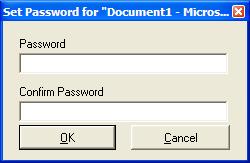 After you have completed these steps, the running programs or documents will be now password protected. When these password protected programs or documents are attempted to maximize, a small window will pop up again seeking for right password and it will only maximize once the correct password is entered successfully.

LockThis! ver 1.0.0 is absolutely free to download and It is suitable for people who usually use the public PC or frequently share PC to others in ad-hoc manner.