Chess game can be one of favorite activity people enjoys in free time. In fact, Windows operating system also comes built-in with a classic chess game named Chess Titans, which allows competitive game play between two human players. But some people, chess is simply not for them. If you get bored quickly when playing chess, here's another kind of chess game – in erotic style.

WARNING: This material is intended for an adult audience (18+) only. The game contains subject matter which may not be suitable for all audiences. By continue reading, you certify that you're over the age of 18.
Lovechess The Greek Era is the first game in Lovechess series, which combines Sex and Chess. Lovechess The Greek Era is based on the Greek and Trojan epos and it takes gamer to a place where the gods have sex on the chess board. In Lovechess, player gets to play chess with sexy queens and amorous knights.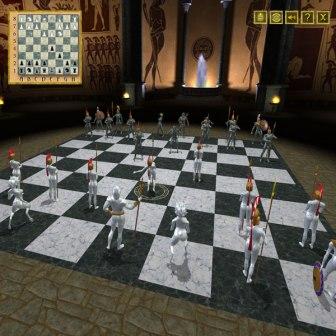 Features of Lovechess The Greek Era:
A beautiful 3D scenery and realistic erotic models.
Freedom of movement, watch the chess pieces make love from every angle you want.
Diverse and unique 3D sex animations.
Hand painted erotic art.
A chess-engine with enough challenge for both beginning and experienced players.
Chess lover who wants to be a little bit imaginative in sexual fantasy while playing chess can download full version Lovechess The Greek Era for free. However, despite with sexual theme, Lovechess The Greek Era can make players bore quite quickly, with repetitive erotic arts. And probably it's the reason why the game have been made a freeware that available for all.
Download LoveChess: The Greek Era Free Full Game 1.5 with the following direct download link: LoveChessTGESetup.exe, or from get more download links from lovechess.nl.