With the general availability of Office 2013 product which is inclusive of Lync 2013, Microsoft has started to update Lync client for mobile devices to 2013 version. The first that gets updated expectedly is Lync 2013 app for Windows Phone platform. The Lync client allows user to utilize most features of Lync including voice and video over wireless, rich presence, instant messaging, conferencing, and calling features from a single, easy-to-use interface.

Lync 2013 app effectively replaces and improves on Lync 2010 app. According to Microsoft, main features of Lync 2013 over Lync 2010 for Windows Phone are VoIP and video conferencing support.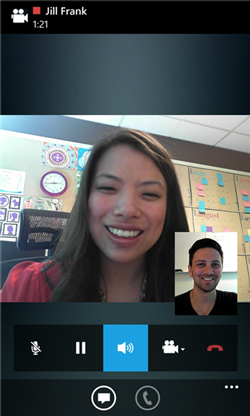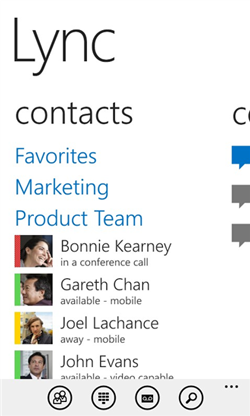 Key features of Lync 2013 are:
View colleagues' availability in real time and select the best way to communicate – initiating an instant message (IM), email, voice or video call.
Connect to Lync Meetings with a single touch, without requiring long numeric passcodes or conference numbers.
Forward or simultaneously ring calls to your Enterprise Voice (Lync ID) number so you'll never miss a call.
Lync 2013 for Windows Phone provides transport layer security (TLS) and perimeter/internal network protection without requiring a VPN, so your communications experience is safer no matter where you are or what network you use.
Note that Lync app is only useful for people who has Lync account via Office 365, Lync Online or validly licensed Lync Server which may requires update.
Lync 2013 for Windows Phone requires Windows Phone 8. The app can be download from Windows Phone Store .
Using iPhone, iPad or Android? Microsoft is also preparing Lync 2013 apps for these mobile devices, with iOS version scheduled to release by March or April, and Android scheduled to available after April.