Getting bored with virtual greeting cards that more like a spam with lots of advertisements rather than true wishes? Now you can use Lynx sexy Alphabet girls to help you to send your greeting messages to your friends or lovers, where the lingerie wearing sexy girls will spell out the each letter of your greeting message, well, by using and posing with their own bodies clad in bikini.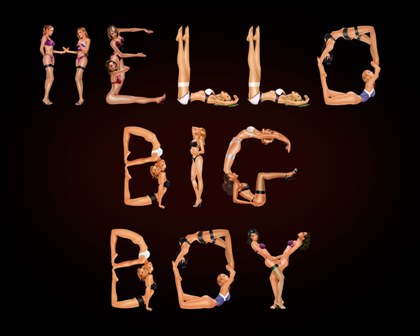 Photo above shows the Lynx Alphabet bikini girls pose for the words Hello Big Boy using their hot sexy bodies, which will represent the alphabet in the greeting card.
You can preview your message in the greeting card before sending, where you can see the Lynx Alphabet girls in bikini posing the alphabets contained in the text of the greeting card by using their hot sexy bodies. After you send the Lynxmas greeting card with Lynx girls' message, your receipient will need to go to Lynxmas website to view it, and if you have too long message, it will take some time for the sexy girls to display the characters. Broadband are recommended, as size DOES matter. However, the greeting cards still display you have been sent special xmas message.
Create your Lynxmas greeting card messages with Lynx female animated alphabets.
If you like the bikini girls, it's also possible to download the screensavers and wallpapers with the Lynx bikini girls to use and display on your computer.