It looks identical to Power Mac G5 (PMG5) and it even has the same exterior dimensions. But if you take a closer look, you will notice two optical drive doors (the PMG5 only had one), which is but a hint of the changes that have taken place beneath its cold aluminium exterior.
Ya, that is the all-new "Mac Pro". Mac Pro was introduced by Apple on August 7, 2006 at the Worldwide Developers Conference, to replace the Power Mac G5.
New Mac Pro is no longer powered by IBM's PowerPC G5 processors. It is now comes with a new and more powerful 64-bit Dual-Core Intel Xeon 5100 series processor. The Dual-Core Intel Xeon processors 5100 series are one of the most powerful desktop processors in the market today. It is Intel's newest dual-core processor designed for dual processor (DP) servers and workstations. It delivers a new level of energy-efficient performance from the innovative Intel Core microarchitecture.

The Dual-Core Intel Xeon processor 5100 series is ideal for intense computing environments, 32-bit and 64-bit business-critical applications and high-end workstations. As a comparison, it offers more than twice the performance of the outgoing PowerPC G5 processors (according to Apple).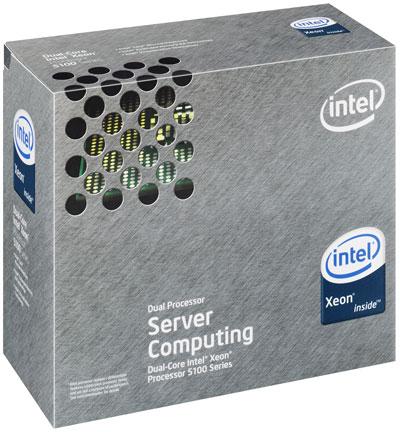 Xeon processor 5100
Apart from the increase in performance, the Xeon processors also dissipate less heat than the old Power PC G5 processors. In other words, it means Mac Pro doesn't need the gigantic liquid-cooling system from the previous top-of-the-range PMG5. The Xeon processors' smaller heatsinks have allowed apple's engineers to completely redesign the Mac Pro's innards, freeing up space for far more drive bays and expansion slots whilst enabling the system to run even quieter than before.
The most obvious addition to Mac Pro is a second full-sized 5.25in drive bay (the PMG5 only had enough space for one). It's empty though – probably awaiting the insertion of a Blu-ray drive in the near future).
The Mac Pro has four SATA drive bays – twice as much as on the PMG5. while it comes with a 250GB drive as standard, and you can have up to 3 terrabytes of storage on four 750GB drives. The Mac Pro also has four PCI-Express slots (one dual-width slot) with software adjustable lane bandwidth, whereas the PMC5 only had four normal size slots with pre-configured bandwidth.
In fact, the Mac Pro can be ordered with four nVidia GeForce 7300 GT graphics cards – presumably if you want to attach four 30in Apple Cinema Displays to your rig. In term of RAM, Mac Pro uses more reliable fully buffered ECC 667MHz DDR2 memory.
Technically, Mac Pro presented excellent performance in term of processing power. It has ample expansion options and a well-designed enclosure. However, it is not perfect due to its average performance graphics card.
This Mac Pro is available in three basic configurations in the markets – 2GHz, 2.66GHz or 3GHz in the market.
Read also the PC Magazine review on Mac Pro and its predecessor, the Power Mac G5.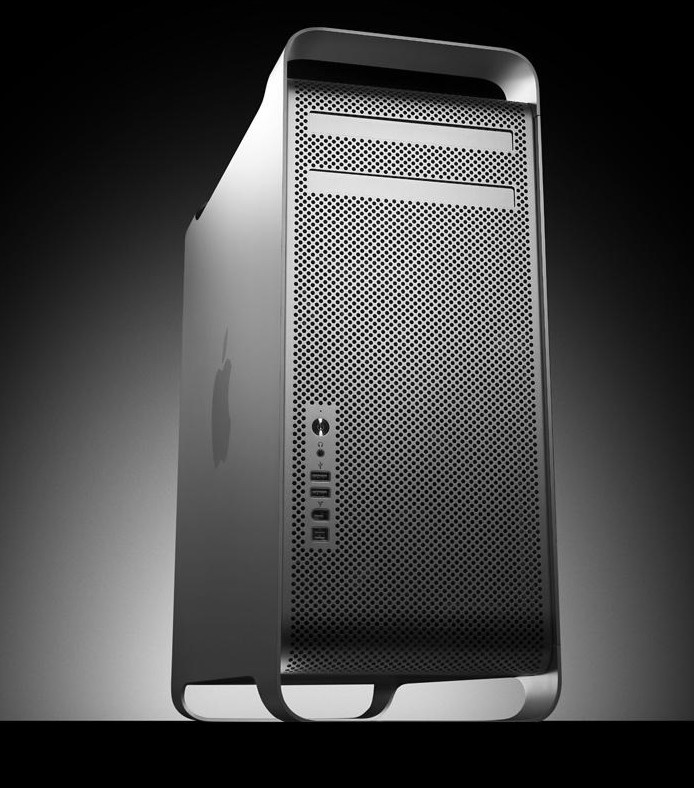 Mac Pro