Good news for gamers with old Xbox 360 that doesn't contain HDMI (High Definition Multimedia Interface) port. MadCatz has just announced the availability of the new HDMI Conversion kit targeted for Microsoft XBox 360 console enthusiasts that would like have the real gaming experience in front of HD (High Definition) TV.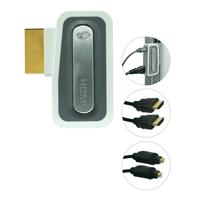 The kit can interface with analog composite AV output to be connected with digital HDMI input on your HDTV. Surprisingly, it is claimed to be able to scale up to Full HD 1080p resolution quality from conventional analogue VGA signal. It is really amazing of what could be done by the kit besides converting the analog to digital signal. Worth to mention here, it is also compliant to HDMI version 1.3. On the audio portion, it is equipped with optical audio port compatible with Dolby Digital and DTS supporting multi-channel surround sound that makes it a perfect match for both visual and audio experience.
The kit is available now at $89.99. I am doubt of its performance but if it can really work as what is being claimed, then this could be an alternative option to enable additional HD device in digital home.