Sport enthusiasts probably would love to see some glittery pink and purple unicorns with rainbow manes appears over their favorite ESPN (Entertainment Sports Programming Network) site. The world famous ESPN sports site was reported being hacked this morning. After entering the Konami cheat code, users will be able to see unicorns, rainbow and etc cover all over the site.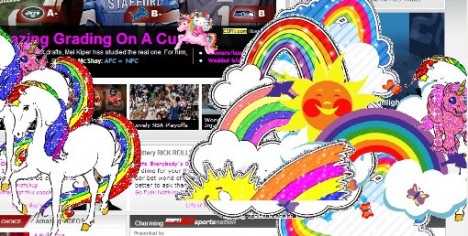 After a few hours the cheat code was spread over the internet, the ESPN site discovered the problem and rectified it immediately. If users have missed the magic effect on the ESPN site, there is another way for users to enjoy it. Click on the to the Google cached version of the ESPN Site via the link here. After the site is loaded:
Press the arrow keys from the keyboard in this order: up, up, down, down, left, right, left right
Then hit the letters "a" and "b" in this order: b, a, b, a
Hit "Enter"
You will see the magic effect after the code is entered. Enjoy yourself while the trick still works.