There is another new gaming PC from Maingear which specifically designed for games enthusiastic, named as Pulse. As claimed by Maingear, Pulse is the smallest and most energy efficient gaming PC on the market today. The small form-factor PC is featured with a NVIDIA Ion chipset. Besides, the company also claims it as the world's first GeForce upgradeable ION PC.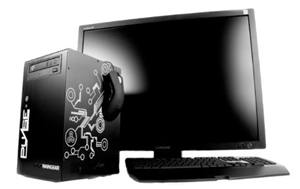 The systems are available in a variety of configurations, with options for Core 2 Duo CPU up to 3.33GHz or Core 2 Quad up to 2.6GHz. In addition, it also offers special edition GeForce 9600 GT and 9800 GT graphics that consumes 40% less power and consumes less than 145 watts under fully load condition while playing games.
The basic configurations with a 2.93GHz Intel Core 2 Duo processor, an integrated GeForce 9300 GPU, 2GB of RAM and a 160GB hard drive is now available for the price of $800.