Amateur movie making is an interesting hobby especially for producer wannabes who like photography and video shooting. They can compile their favourite photos and videos, prepare a script and make a digital movie clip to showcase their masterpiece. It's pretty interesting. To create your own movie clip, basically you need a good video editing software which can support you with all the necessary features you require. If you are using Microsoft Windows Operating System, you can actually try the Windows Movie Maker. It is easy to use and quite powerful. However, if you have had bad experiences with Microsoft's products and intend to look for another movie maker application, you can try VideoSpin, a FREE brand new video editing tool which allows users to make their own movie clip in minutes!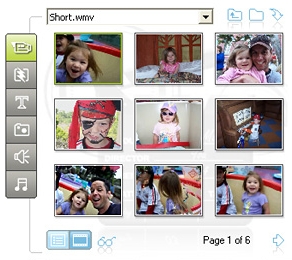 Video Spin is a free product from Pinnacle, a subsidiary of Avid Technology Inc, the world leader in tools for film, video, audio, 3D animation, gaming and broadcasting. Pinnacle VideoSpin is a video editing tool created particularly to help those who enjoy creating home movies or their digital media and share them on the web.
VideoSpin is very easy to use. The concept of working is quite similar to Windows Movie Maker. To start a movie clip project like Window Movie Maker, you need to import your digital files such as video clips, images and music files onto an album (called Collection in Windows Movie Maker). You can import your digital contents from external media devices such as a digital camera, iPod, etc. The album contains video transitions, titles, digital photos, sound FX and music. Similar to Window Movie Maker, there is a video player located on the right corner of the screen to be used to view the contents from the album. The video player also can be used to view the movie created by you. Once you have uploaded your digital contents to the album, you can drag-and-drop your contents onto the VideoSpin timeline. VideoSpin allows you to add 2D transition in order to create a stylized change from one scene to the other. You can also add title, music and sound effect to your movie. Once you have created your movie, you can choose to save it in various formats, e.g. WMV, FLV, MP4, etc. The software also allows you to upload your movie directly to the web such as YouTube for sharing.
VideoSpin is in Version 1.1.525 can be downloaded via the link HERE. The file size is approximately 150MB. Users can enjoy the software absolutely free. However, if users want to create or edit MPEG-2, MPEG-4/DivX, or Dolby Digital 2 Channel files, then they must purchase the advanced Codec Pack from Pinnacle.