TEL3 has launched its iPhone App which called as TEL3Dialer. The TEL3Dialer has been designed specifically for those who frequently make international calls. With this application, the users can enjoy lower call rates and with improved call quality.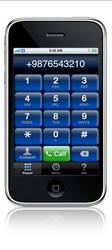 "TEL3 has been one of the most innovative and technology driven brand name for more than a decade and because of our reach across the prepaid market, we have a unique perspective on the industry that no other company can match. TEL3 continues to offer services that allow customers to easily communicate with anybody in the world from any phone at lower costs. The introduction of TEL3Dialer App is another example of TEL3's commitment to our customers and we will continue making distance local for them with convenient and affordable services. We are proud to provide connectivity without boundaries," stated Burak Ozan, VP of Marketing and Business Development at TEL3.
Besides, the company also offers a free trial version for their new customers with up to 60 minutes free international call. The free trial does not require any commitment or credit card. With this application, the users will be able to make International calls that will be debited from their prepaid TEL3 balance while using only regular domestic airtime with their existing wireless provider. However, this prepared service is only available in US and Canada.
The TEL3Dialer is currently downloadable on iPhone through the Apple Store.