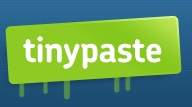 There are many creative ways to propose to the one you love. Some people declare their love in the classifieds or announce to the whole world through a radio program. Others post their love messages on billboards. However, there is an easier and free way to ask for your lover's hand in marriage. Try this interesting service, TinyPaste. It is a free service which allows users to scribble or write their messages of love. Users will then be given a tiny url which they can share with others to read the messages posted.

Of course many people might say you can use blog, website, email, instant messenger or other services to do the same thing. But to develop a website, blog, etc, consumes a lot of time and you probably need to have some technical knowledge. What is interesting about TinyPaste is it is user friendly and easy to use. Furthermore, it make your message public in a big way.
TinyPaste is free and it does not require users to register for using it. It doesn't limit the character can be typed. It features a very simple interface: a green logo and a text box for users to type their messages. TinyPaste also offers plugin for Firefox users. The plug-in is compatible with all current versions of Firefox.
If you have any sensitive messages or serious topics to deliver, probably TinyPaste is another platform for you.