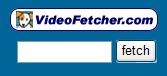 Probably you want to share with your friends or colleagues the movie clips of inspiring moments of Michael Phelps breaking the Beijing Olympics 2008 world record in the 200 meter butterfly event or the Dream 8 team beating arch rival China. However, the clips that you have watched and want to share might have been removed from the video sharing platform such as YouTube or Yahoo Video. It could be quite embarrassing to let your friends down. It will probably take you some time to search for these video clips again from other video sharing platforms.

To reduce your inconvenience and speed up the time to hunt for a specific video clip on the internet, VideoFetcher is the answer to your prayers. VideoFetcher is an interesting internet service cum search engine which allows users to check out video clips on the subject they want. It features a simple interface for users to search for the video they are looking for. There are over 100 online video sharing sites listed at any one time. Some of the hot favorites are mySpace, AOL Uncut, YouTube, Break.com and Yahoo Video. You can browse the items listed and find the most relevant video clips more efficiently and quickly.
For extra convenience, users can also download a plugin for Firebox or IE on this service. VideoFetcher allows users to install VideoFetcher search engine into their website. Once it has been installed, users can search the site from anywhere on the web through their browsers built-in search bar on the top right.