Pressing a key to make speed dial is a common function which can be easily found on mobile phone. PhoneFace is a new way to quick start phone calls, texts or emails. It can be done by simply flick though the photo of the contacts then tap to start a call, sending text messaging or email.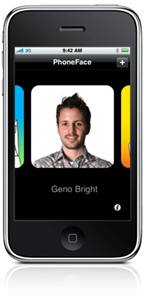 "PhoneFace is a light and breezy speed-dialer aimed at helping anyone reaches out to their friends and family more quickly with their iPhone. It's so much easier to look for a familiar face than sort through hundreds of names in a directory," said by Iain Barclay, Electric Pocket's co-founder and Chief Product Officer.
Newer version of PhoneFace has been improved with the option to show the photo of their friends or pick from a set of fun avatars. Moreover, the users can connect to twitter to find their friends photo.
The PhoneFace is available for Blackberry, Android smartphones and iPhone. The trial version for Blackberry can be downloading at http://phoneface.com with BlackBerry web browser. Android version is available at Android Market and iPhone version is available at App Store. Both Android and iPhone are priced at $0.99.