Mamiya Digital Imaging has announced next model of digital back, i.e. Mamiya ZDb. The 22-megapixel Digital Back will be shown at Photokina 2008 with several useful enhancements.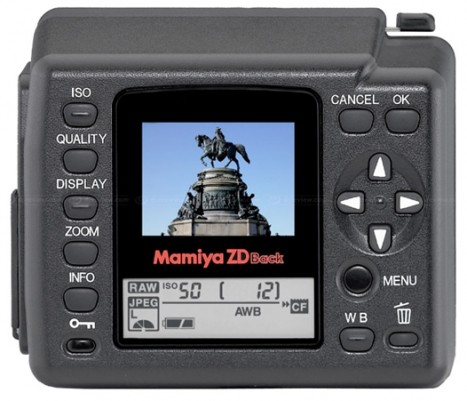 Mamiya has increased the ZDb's buffer up to twice the memory of the original ZD Digital Back. With that, you can shoot up to 22 frames of full resolution RAW files before buffer is filled up.
Other than that, it is now compatible with SDHC (Secure Digital High Capacity) cards that can store up to 32 gigabytes of images. Memory cards such as SD, SDHC, CF I and CF II are also supported..
When the Digital Back is used with Mamiya 645AFDIII, the ZDb Back will display the camera's 35 custom function controls on the LCD panel, which makes custom camera settings fast and user-friendly.
A new Mamiya Remote Capture software (available for download from www.Mamiya.com) makes shooting tethered with the Mamiya ZDb Back faster and easier. This program allows you to control exposure, focusing, ISO setting, format selection (RAW, jpeg or both) and firing the camera directly from your computer.
Build with a 22 mega pixel Dalsa CCD sensor, the ZDb Digital Back allows the Mamiya 645AFDII, Mamiya 645AFDIII, RZ67Pro-IID and RB67Pro-SD to take razor-sharp professional digital images at an affordable price.
The price and delivery of Mamiya ZDb will be announced in the fall of 2008.
Specification :
Image Sensor
• 48x36mm full-frame transfer CCD
• 21.70 mega pixels
• 21.30 mega pixels
Filter
• Interchangeable: IR cut filter (standard)
• Low pass filter
• Filter for IR photography
Image Size
• 5328×4000 pixels
• 4096×3072 pixels
• 3008×2256 pixels
File formats
• RAW
• JPEG
Storage
• SD/SDHC
• CF card (type I & II)
Capture rate : 1.2 fps (burst rate: 22 frames)
Color space : Adobe RGB, sRGB
ISO sensitivity : ISO 50 to 400
White balance : Auto, Daylight, Shade, Tungsten, Fluorescent, Strobe
White balance fine tune : Color temperature & Preset 1 & 2
LCD monitor : TFT 1.8"
External interface : IEEE1394 4-pin
Power : Lithium ion rechargeable battery
Weight (no batt) : 470g
Dimensions : 106(W) x 90(H) x 62 (D) mm
Compatible cameras : Mamiya 645AFD/II/II, RZ67Pro-SD, RB67Pro-IID