While the Internet has become an integral part of our lives, information theft and crime is also on the rise. We expect access to information or services to be quick, simple and convenient. But at the same time, the safety and security of our personal data is severely compromised. Is there an effective way to counter the work of hackers and spammers who are working relentlessly to pilfer our personal information? LookCrypt is a freeware application which can work towards protecting our personal and confidential data.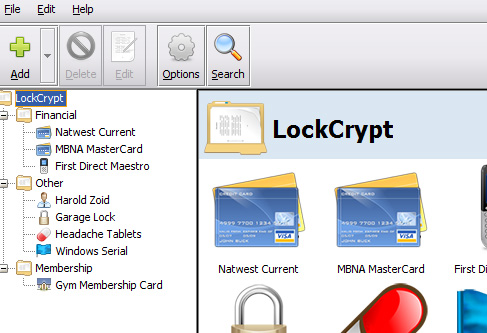 Featuring a simple and user-friendly interface, LockCrypt is a useful account management program which can store users' important and private data such as account details, serial numbers, passwords of online accounts, etc in a strong encrypted form in a secure central database. This central database will be protected with an entry password. This password will be set during the installation time. LockCrypt will generate a strong password to users in the event users couldn't think of any and need LockCrypt's help.
LockCrypt is available in multiple languages such as English, German, Spanish, Italian, Chinese and Czech. Users who secure their personal data with LockCrypt can export and import their account data between applications in XML, CSV or plain text format. LockCrypt features the data import and export ability. Users who intend to make a hard copy of their account can use the print output feature in LockCrypt to print a set of their account list. If users copy a field to the clipboard from LockCrypt, there's an option to erase it after a set amount of time. This is useful because if users move away from the keyboard, anyone would be free to paste users' clipboard and see users' password.
LockCrypt is a freeware. Besides working in Windows, Mac and Linux platforms, LockCrypt also introduced its LockCrypt for Windows Mobile and LockCrypt Mobile J2ME which run on most Java capable phones. The latest version of LockCrypt is LockCrypt 1.73. For security purposes and if users would like to give it a try can download it via the link here:
LockCrypt 1.73 for Windows/Mac/Linux
– Windows Installer
– Executable JAR
LockCrypt for Windows Mobile 1.35
– Active Sync/WMDC Installer Executable Only
LockCrypt Mobile J2ME 1.25
– JAR & JAD