Xilisoft Mobile Phone Manager is a freeware application for mobile phone data management which can synchronize the mobile phone with PC to access mobile data, and realize phone data transfer, restoration, copy and other mobile management between computer and phone. The synchronization includes contacts, messages, email, calendar, favorites and tasks with PC as well as allows exchange data with MS Outlook.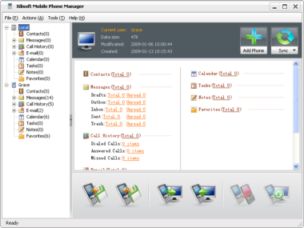 Beside that, it also able to prevent data from stealing, deleting incautiously, copying or any unauthorized use by allow users to create their own account. With Mobile Phone Manager, it also able to show the details phone specifications such as phone model, image, name, phone capacity, SIM card capacity and operator.
As part of Data Transfer, Xilisoft Mobile Phone Manager also can connect with more than one phone via USB cable and Bluetooth. This mobile manager works well with mobile devices running Windows Mobile. Currently, it is available for free download.