You may have added a lot of programs in Windows start up list during installation so that they will immediately start up as soon as Windows re-started. However, this could lead to the chance for malwares to be part of the startup lists without your notice. Besides, by adding more and more programs to the startup list, it will eventually affect your computer performance especially during Windows startup. Since program startup list could have been added in registry or startup folder, so you probably don't have visibility of what programs are being added in the startup list. Now with Startup Inspector, it will able to help you scan through program startup list in both registry & startup folder and display at the UI for you to view in quick glance as well as letting you manage the list.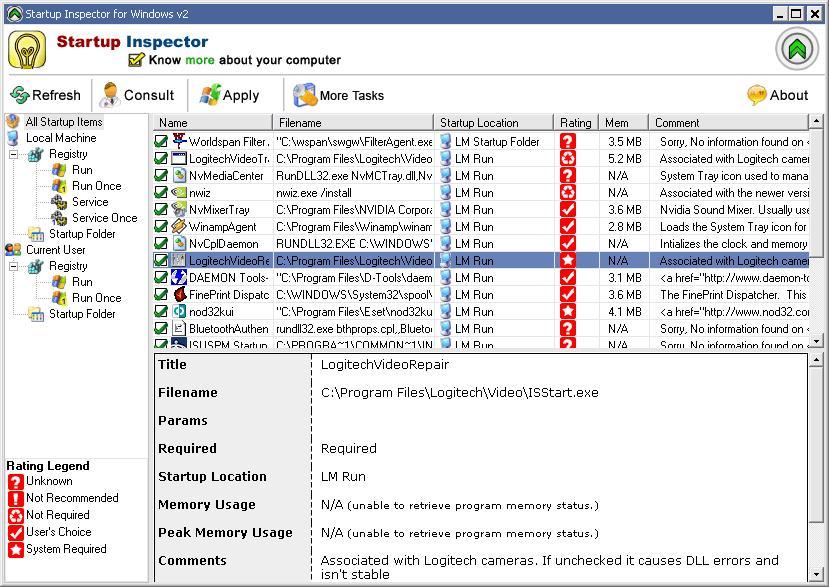 Startup Inspector is a Windows platform software that help you to manage Windows startup applications easier and faster. It scans all programs which are in Windows Startup folder and registry, then displays all startup program list on the main UI. If you want to know the startup program list which are only from registry either in Local Machine or Current Users, you can know that as well by clicking on the Registry folder as listed on the left pane. Similar goes for startup program list from startup folder, you can know the startup program list in startup folder by clicking on Startup Folder either under Local Machine or Current User. Besides, it provides you the background information for each startup program such as title of the program, path and filename of the program, parameters used to execute the program, startup location, memory usage, peak memory usage and etc. For any programs that you suspect is harmful like spyware or virus and unnecessary programs like reminder, you can choose to disable/enable and even remove them from auto startup list.
Startup Inspector ver 2.2 is absolutely free to download and just go to download it now to have a better visibility and management of your program startup list.