GoToMyCamera is an online Web 2.0 solutions built on Amazon S3 Web Services for managing video from network camera for surveillance purpose. So the users don't need to worries over the storage space, cost of hardware and maintenance. Currently, GoToMyCamera only supports Axis Network cameras. Whereby, analog camera and other network camera are supported through the Eptascape video analytics detection system.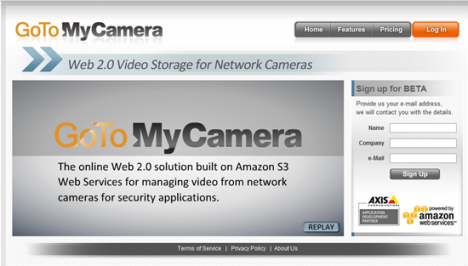 The service will use the motion detection of the camera. Once detected, that motion event will auto upload into the server via the Internet. To prevent unauthorized user to access, the camera and video are protected by password. Users can view their upload video through the web browser like IE, Firefox and etc. There is no limitation in the video size that can be recorded and uploaded to server Amazon S3. It is fully depending on the service package which the users choose.
GoToMyCamera also support live viewing for multiple cameras. The users can option either low or high resolutions displays and the frame rate is also depend on the connection speed, it can vary from 1 to 3 frames per second. The video history is organized in a reverse chronological order and the videos are streamed in a flash format from the server. It also able to sent the event notifications though email, google talk, jabber, AOL/AIM, ICQ and SMS.
The service charges are depending on the number of camera, users and space. The service is start from $5 to $30 per month and $5 sign up fee for all packages.