Does your PC powerful enough for you to play the latest games with complicated multimedia effects? The expert in building high performance custom computers for gaming, ManiGear Computer has announced its latest eX-L 18 notebook which claims to be the world's most powerful gaming notebook.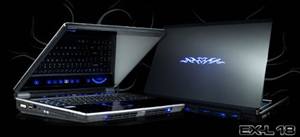 The notebook has been enhanced with dual NVIDIA GeForce GTX 280 graphics with NVIDIA SLI technology for bringing the games and multimedia to life with brilliant 3D graphics and movies in 1080p HD resolution. NVIDIA GeForce GTX 280M GPUs are the fastest GeForce notebook GPUs ever.
"MainGear has equipped the eX-L 18 with the world's fastest notebook graphics solution," said by Rene Hass, General Manager of the notebook business unit at NVIDIA. "With NVIDIA GeForce GTX 280M GPUs, MainGear's customers will experience breathtaking in gaming physics from titles such as Terminator Salvation or Darkest of Days and are ready for GPU computing applications such as Badaboom, vReveal and Arcsoft SimHD."
Powered by Intel Core 2 mobile processor, the eX-L 18 notebook is also comes with up to three 2.5-inch SATA or SSD drives that configurable in RAID formations, supports eSATA, HDMI, USB 2.0 and FireWire. Besides, it also equipped with 3-megapixel video camera to provide high definition video conferencing.
With the increasing demand for mobile high performance computing solutions, we wanted to offer our customers with the most powerful gaming desktop replacement possible" said by Wallace Santos, CEO and Founder of MAINGEAR. "With the co-processing power of the Intel Core 2 CPU and dual NVIDIA GPUs, you're able to get the same cutting edge technology available to desktop users in a balanced computing configuration that is ideal for today's GPU computing environment."
The eX-L 18 powerful gaming notebook will be available for the base price of $2999.