It is common to have single, dual or quad core processors but you may think it is odd to have three asymmetric cores to build a new processor. Just recently, Marvel has confirmed a next generation three-core processor which is already in progress suitable for smartphone market. Named as Armada 628, it will be clocking at 1.5GHz with load sharing between dual-cores, while leaving the third core to manage these two cores as well as routine tasks targeted for whole performance per watt boost.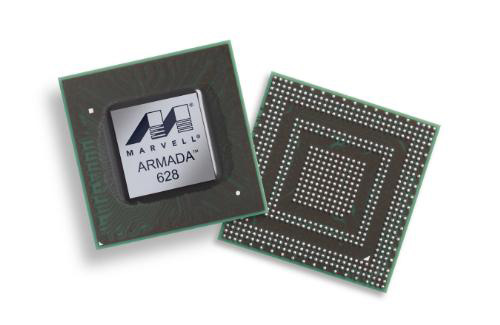 Impressively, the new Armada 628 is claimed to be able to handle two full HD 1080p media clips simultaneously with extra ability to handle 3D applications as well. Specifically, its integrated graphics core is powerful enough with quad programmable shaders that can achieve 200 million triangles per second to meet gaming requirements. Not to be compromised with high power consumption, the end device is expected to last up to 10 hours or 140 hours with 1080p media clips playing and music playback respectively. Other integrated functions into the chip includes USB 3.0 as well as HDMI controllers that can help minimizing external discrete component counts for much compact form factor design with higher cost efficiency.
No pricing availability yet, Armada 628 is already in sampling stage now for early access customers with high potential that Blackberry's next generation RIM products is already in the list. However, we may need to wait until early next year before it reaches volume production to be ready for final smartphone products.