Want to have better control of your Windows PC system in terms of the ability to execute various applications based on the count down counter or even CPU resource utilization? Now with this simple but yet powerful utility named as Marxio Timer v1.2, users will be able to manage the running tasks more effectively without the need to manually monitor the Windows processes.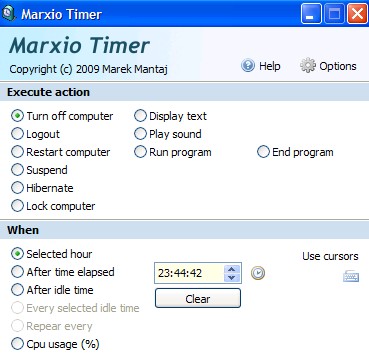 With this software utility, users will be able to configure it correctly so that it will execute certain actions when a selected criteria is met. Some of the executable actions include the ability to turn off, restart, hibernate or lock computer after a time interval elapses. Besides, it can be configured to display text, play sound or run specific program at selected hour in simple steps.
The tool is further enhanced with CPU cycles utilization measurement (in percentage) that will able to trigger certain actions besides purely relied on timer countdown. For instance, users can configure the system detection to trigger a system reset when the CPU cycle utilization reaches 30 percent or higher for 10 seconds and so on. This is particularly useful when you would like to ensure the system is fully utilized to handle tasks processing effectively.
There are two versions – installer or portable version that users can download and it is compatible to work with Windows 2000, XP and Vista Operating Systems.