Losing records of your favorite games' settings due to technical problems is definitely a bitter and painful experience for game enthusiasts particularly hardcore gamers. It takes time and effort to locate the games' folders and figure out how to restore or reinstate the settings. Gamers, especially non-tech savvy types, will have a hard time to search for the games' folders as most of the time these folders are always stored in some obscure place. To allow you to continue enjoying your favorite games within the shortest time when your system crashes, or you reinstall Windows, or your files are corrupted, etc, the best way is to back up the game settings and saved games. With the backup, users can restore the games easily and conveniently. MASGAU is a free and handy automatic save game archive utility which will automatically detect and archive saved games and settings, and then restores them.

MASGAU is compatible with all Windows platforms, e.g. Windows XP, Vista and Windows 7. The application supports hundreds of games and more and more will be added when the developer updates it. MASGAU features a simple interface with two different modes: Single Users Mode and All Users Mode. With this dual-mode function, users do not necessary have to be the administrative user to save the settings. MASGAU can auto detect game settings, do schedule backup, display the progress bar to indicate the backup process, do a quick restore of an archive, etc.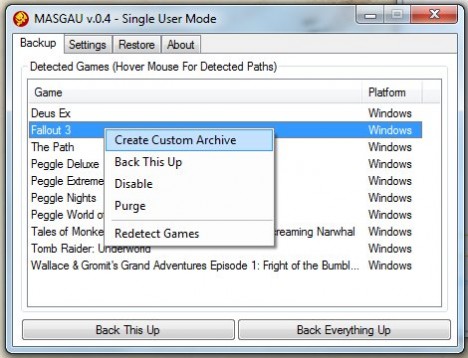 Download the latest MASGAU game settings backup utility via the link here.