How frequent do you need multiple displays in your office work? Typically, one extended display is sufficient for average users but in case you are looking for eight displays simultaneously, then this newly announced graphics display card from Matrox may able to assist you. Named as M9188, it is a PCI Express based graphics card that is capable to support up to eight displays through DisplayPort or DVI output, without overloading your PC system for more effective work.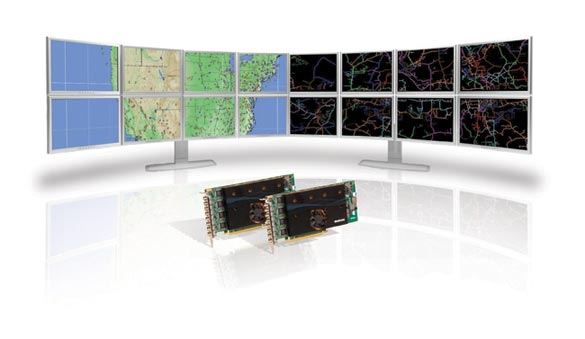 Matrox M9188 can be plugged into any native PCI Express X 16 lane slot and with its internal 2GB memory, it can scale up the maximum resolution up to 2560 X 1600 (for DisplayPort) and 1920 X 1200 (for DVI) per single output, more than sufficient to saturate normal full HD (High Definition) LCD panel. Besides, it is able to support independent desktop display mode across all monitors with direct display output connected either through DVI or relatively new DisplayPort interfaces. For those that can stay with two video output, its sibling M9128 with 1GB internal memory should be sufficient for use.
No pricing information yet, they are compatible with Microsoft Windows XP, Server 2003/2008, Vista and Windows 7 in both 32-bit and 64-bit as well as Linux Operating System, as an excellent discrete graphics solution suitable for mainstream applications without the need to totally replace your existing system.