It is an indisputable fact that the mini laptop, Netbook, will become a new and popular trend in the computer industry in time to come. It is therefore unlikely that Microsoft will not tap into this potential cash cow or let it go solely to its competitor, Linux. That is the reason why the Redmond company is willing to offer Netbook manufacturers the right to purchase its Windows XP license at a much lower price and allows it to be preinstalled. Microsoft does not offer its Windows Vista to manufacturers because the mini laptop which features a low-powered processor, smaller screen and other lower specs is not suitable to run a more heavyweight Windows Vista OS.

Nevertheless Microsoft has taken the compatibility issue in Netbook into consideration when it comes to the new Windows 7 OS. The new Windows 7 is more lightweight compared to Windows Vista and it runs well with the mini netbook. Even though the new Windows 7 manages to resolve the technical issue with netbook, the charges and license fee are other issues which Microsoft needs to address. It is not practical and justifiable for the Redmond company to impose the same charges using Win 7 in the economical netbook compared to other desktops or laptops. Hence, to cater to the netbook market, Microsoft has applied a pretty similar strategy used for Windows XP on Ultra Low Cost PCs (ULCPCs). Instead of offering the full Windows 7 in netbooks, Microsoft offers a so called crippled or reduced version of Windows 7, namely Windows 7 Starter Edition as one of the Windows 7 editions available.
Microsoft has not confirmed details of the Windows 7 Starter Edition. However, TechARP has reported new guidelines from Microsoft in terms of the maximum hardware specification for Windows 7. For instance, the Windows 7 Starter / Home Basic for Small Notebook PCs has limited the screen size to not larger than 10.2 inch, memory not more than 1GB, storage limit to 250 GB HDD or 64 GB SDD, etc. The hardware limitation is shown in the table below: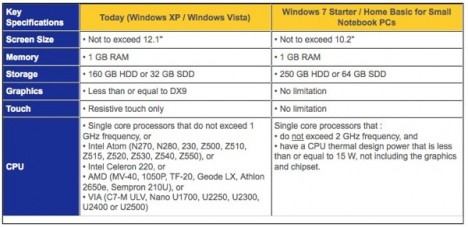 This restriction is technically valid for the Windows 7 Starter/Home Basic version for mini netbooks only. Even though the specification is revealed, there are still no pricing details disclosed by the software giant.