Have you ever encountered such a situation whereby you are trying to have a second screen to extend the view of your current LCD content in your laptop or PC but none of the external LCD is available for usage? Now with the great solution from MaxiVista, users can have a wider screen without the need to spend extra effort to look for external LCD. Instead, they can just connect it to another PC or laptop screen to emulate video input feature that is commonly not available in today's PC architecture with only a simple software driver installation.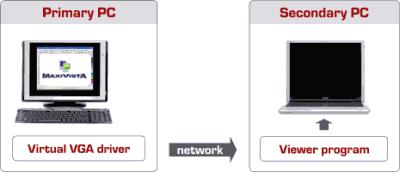 Typically, PC or laptop only consists of Video Outputs such as VGA, DVI or HDMI but none of them are featured with video input. It could be due to the limitation in chipset without any encoding capability as well as the complexity to have an additional A to D converter built onto the motherboard. Now with MaxiVista, everything seems to be very simple without any hardware tweak or wiring modification. What users need is just install the special virtual video driver that will fool the Windows OS to think that a secondary monitor has been connected to the main PC, that eventually allows the contents to be transmitted to second PC through a network connection via a normal network cable.
This is definitely a neat and simple solution without involving much of the hardware change and additional costs. Besides, it is claimed to be able to display excellent graphics quality through a digital signal transmission, rather than an analog VGA connection. More importantly, the software driver works as expected that it won't shoot up the CPU utilization unnecessarily.
The software works great for Windows 2000/2003/XP and even Vista. However, there are some system requirements that need to be aware before trying the setup. Users can download the free trial version at MaxiVista to see if it suits the need before actual software purchase.