Intel Atom processor has gained much traction after its successful launch few months ago. While its main focus is still targeted on MID (Mobile Internet Device) and UMPC (Ultra Mobile PC) as well as embedded market, Matrox Imaging has actually put this thermally efficient processor into its Iris GT digital camera with enhanced functionality.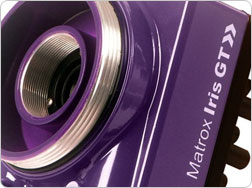 The smart camera is powered by Intel Atom processor clocking at 1.6GHz. Backup with 256MB RAM, 1GB flash storage and further enhanced with peripherals' connectivity such as RS232, Gigabit Ethernet port, digital I/O that make it suitable to be used across various segments. Surprisingly compact size with feature rich specifications, the device is almost equivalent to an entry level laptop or nettop that can be used to handle complex object patterns scanning and recognition.
No pricing information is available yet, the camera will be commercialized by February 2009 in two versions differentiated by the monochrome CCD sensor – Kodak CCD with 640 X 480 resolution at 110 FPS (Frame per second) or Sony CCD with 1280 X 960 resolution at a slower 22.5 FPS for consumer selections.