McAfee SiteAdvisor Plus is a powerful online security software which provides active, real-time, comprehensive protection from sites that can compromise the users identity and their PCs. The McAfee SiteAdvisor has been improved with advanced phishing protection, link checking in e-mails and instant messages, and 'protected mode' to disable interaction with dangerous site while users searching and browsing.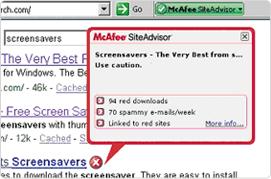 Key features of the McAfee SiteAdvisor Plus includes:
Safe Search – When using popular search engines like Google, Yahoo!, MSN, AOL, or Ask.com, SiteAdvisor's safety ratings appear next to search results.
Safe Browse – When browsing, a small button in your browser toolbar changes color based on SiteAdvisor's safety results.
Advanced phishing protection – Helps you avoid fraudulent sites that try to steal your identity.
Link Checking – Checks the safety of links in popular e-mail and instant messaging applications and warns of any danger in advance.
Know In Advance – Warnings inform you about threatening Web sites.
Advanced Phishing Protection – A combination of database checking and real-time analysis helps identify scam sites that try to steal your personal information and identity.
Protected Mode – Password-protected setting lets you disable red interaction with dangerous `red´ sites and downloads, no matter where they appear.
Get The Details – Detailed test results for every site are just one click away.
Always Upgrading – Daily updates are installed automatically, when a new version of McAfee is available.
McAfee is now giving away free 1 year subscription license key code of McAfee SiteAdvisor Plus to Earthlink Toolbar users. To grab the free 1 year subscription license key code of McAfree SiteAdvisor Plus which normally cost $19.99 to purchase, just follow the below steps:
Visit , click on the "Download Now" button.

Click on "ogin in now" if you have McAfee account or register for a new McAfee account.
On your My Account page, click on the "Online Installation" button and then click on the "Download" button to download DMSetup.exe for installation.
McAfee SiteAdvisor Plus supports Windows 2000, Windows XP, Windows Vista and Windows 7.