McAfee SiteAdvisor Plus is powerful online security software that provides active, real-time, comprehensive protection from sites that appear in search engine results or during sites visit. McAfee SiteAdvisor protect all kinds of Web-based security threats including spyware, adware, spam, viruses, browser exploits, phishing, online fraud and identity theft. McAfee SiteAdvisor Plus also comes with SiteAdvisor's safety ratings that help users to stay safe and in control while online. Users can also in protected mode with password-enabled feature that automatically blocks access to dangerous sites. Moreover, McAfee SiteAdvisor also can help identify links in email and instant messages that may point to nefarious web sites and blocks attempts to visit malicious web sites. Furthermore, McAfee SiteAdvisor Plus has added support for Firefox, AOL Instant Messenger and AOL Mail.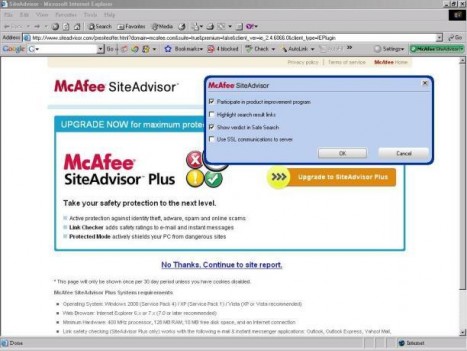 Features of McAfee SiteAdvisor Plus:
Helps protect against spyware and adware
Anti-phishing protection
Alerts on potentially malicious web sites and blocks risky websites
Provides safety ratings for search results
Scans email and IMs
Helps to identify nefarious phishing scam sites
Helps guard against exposure to sites hosting potentially intrusive programs, malware, and online scams
Safely shop and bank online
Color-coded threat alerts
Works with other security software
Automatically updates to provide guidance for newly discovered sites
McAfee SiteAdvisor Plus normally costs $24.99 (one PC) for purchase through McAfee Security Store. McAfee SiteAdvisor Plus is available in 15 languages and dialects. As part of promotional offer for eBay customers, interested users intend to trial now can grab the McAfee SiteAdvisor Plus with free 6 months license.
Go to the following promotion page:http://us.mcafee.com/root/landingpages/affLandPage.asp?lpname=saplus
Then click DOWNLOAD NOW button.
Now create a free McAfee account by entering required fields in the form and click "I Agree" button.Note: Direct login to the account if already created an account with McAfee before.
Check the mailbox, the email from Mcafee will receive with activation link. Click on the activation link.
After account creation you will see payment order conformation page, then click on Go to my account tab.
Download the McAfee SiteAdvisor Plus free 180 days without required license key code.
McAfee SiteAdvisor Plus supports Windows 98, ME, 2000, XP, Vista, Linux and Mac OS X.
Update: This offer has expired. New promo free McAfee Internet Security 2013 for 6 months.
McAfee Internet Security Free Download With 6-months Genuine License Serial Key