Recently, GPS has become more and more popular especially for usage in navigation systems as it's becoming less expensive as compared to previously. Medion, the European leader in multimedia computing and consumer electronics has released its latest GPS nagivation systems, Medion GoPal P5430. The design of new Medion GoPal P5430 is emphasizing on it extra large displays that measures 5 inch diagonally.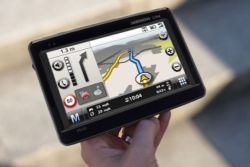 Medion GoPal P5430 comes with maps Western and Eastern Europe which provide by Navteq and integrated with TMC traffic antenna that help the user to stay out of the mess.
Other features of Medion GoPal P5430 as below:
Include Traffic Master that able to avoid traffic jams and faster reached the destination.
Voice Control.
High performance of SiRF Titan 600 MHz processor which reduces the time to first fix by guessing where those satellites might be.
Text-to-Speech function for precise traffice guidance.
Pre-loaded safety camera locations.
Lane and Speed advisor.
3 GB memory.
With built in finger print sensor.