The famous instant messaging aggregator, Meebo, has officially added another new IM service to its multiple IM services list. Together with Yahoo! Messenger, Google Talk, AIM, ICQ, MySpaceIM, .MSN and Jabber, Meebo has now incorporated the Facebook's IM service, Facebook Chat, into its site. Users can enjoy chatting with their friends who are logged into Facebook's chat while interacting with friends from other IM services such as MSN, Gtalk, Yahoo! Messenger, etc through a single interface at the Meebo site.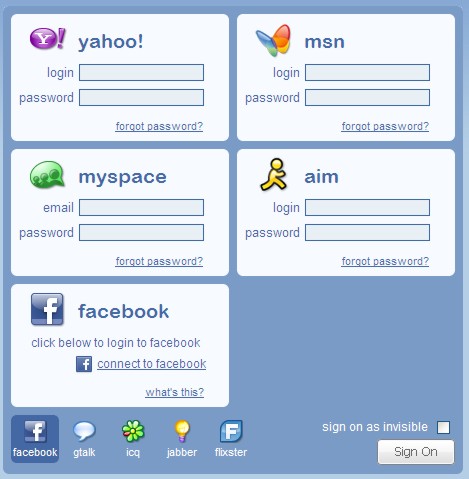 Meebo unofficially added Facebook chat in its list last December. However, the previous integration was done via a third-party plugin. Facebook has thence stopped Meebo from accessing the Facebook chat program. Facebook instructed Meebo to remove its implemented Facebook Chat integration due to some security issues which arose. However, Facebook has committed itself to help Meebo to revamp the connection and integration approach and to make it work again.
In this official version, users will be prompted an official notice when they connect to Facebook chat via Meebo. This notice did not appear in the unofficial version.