There are various options such as Details, List, Icons, Thumbnails that you can choose to view your image files in Window Explorer. But instead of manually switching the viewing mode depending on needs, how good would that be if you can preview the image files in thumbnail format by simply right clicking on the image file itself? And that is how this tiny utility is being designed to. Named as Menu Viewer, it integrates the thumbnail-like viewing capability into the context menu that allows users to quickly go through all the picture files without the need to open it one by one.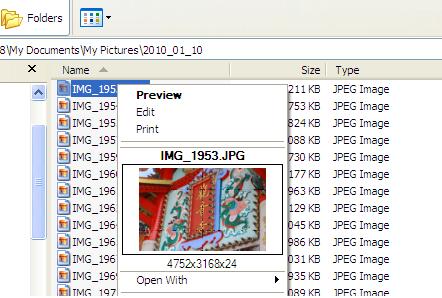 Once download and install the utility, users will be able to use it directly. Right clicking on desired image files will bring up a thumbnail view in its context menu and on top of this, it also shows useful image information such as resolution and dimension of the file itself. Double clicking on the preview mode will open the actual image like normal. To make it truly useful for all, Menu Viewer is compatible and able to work with various famous image formats such as BMP, JPEG, PNG, TIFF, GIF and even some rarely heard format types like DDS,HDR, ICO, IFF, JBIG, JNG, KOALA, LBM, Kodak PhotoCD, MNG, PCX, PBM, PGM, PPM, PhotoShop, Raw Fax G3, SGI, Sun, RAS, TARGA, WBMP and many more.
Consumed around 700kB of your hard disk space, Menu Viewer is quite a tiny but yet useful utility that will definitely able to enhance the context menu functionality for more effective work in both office and home environments.