Juniper Systems has announced the availability of its Mesa Geo 3G Rugged Notepad. According to the company, the Mesa Rugged Notepad is claimed to be the world's first Juniper rugged notepad, featuring the biggest screen available on a Windows Mobile rugged handheld computer. The Mesa Geo 3G Rugged Notepad has been enhanced with 3G GSM cellular data modem for real-time wireless connectivity. The Rugged Notepad meets a high drop specification, and offers a greater level of dust and moisture protection. Besides that, the device has been tested to meet STD-810G standards for operation in challenging environments.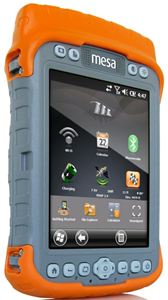 Key features of the Mesa Geo 3G Rugged Notepad includes:
5.7-inch VGA active viewing display with 640 x 480 resolutions.
Wi-Fi enabled and Bluetooth connectivity.
3.2-megapixel camera.
Integrated GPS .
Juniper Geotagging: embed and emboss photo with date, time, and GPS position.
3G GSM Modem.
806 Mhz PXA320 processor.
Microsoft Windows Mobile 6.5.3.
Multiple languages.
256 MB RAM.
4 GB flash storage.
SD/SDHC slot.
Magnesium alloy case front and plastic back.
The Mesa Geo 3G Rugged Notepad with dimensions of 136 mm x 220 mm x 51 mm and weighs at 998g with two batteries is now available in US. However, the price of the device is not yet announced.