Microsoft has decided to slash the retail price of its Windows Vista Home Basic Edition in China market targeting to boost its sale in that region. The action is said to be needed by Microsoft to combat piracy issue while helping to popularize its Windows Vista original license at cheaper price. There were complaints earlier stating that Microsoft has put its new Operating Systems at the price too high which are unaffordable by most of the working levels in China.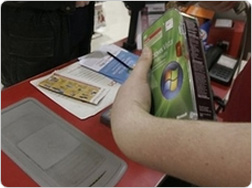 China market is flooded with cheaper pirated copies of Windows Vista which has created another option for those that are keen on switching to new Windows OS (Operating System) without consuming their whole month salary. The consumers could probably buy pirated OS at very cheap price as compared to original licenses. The retails price for Windows Vista Home Basic edition in China are sold at $201 (1521 Renminbi) previously and has been revised to $66 while Home Premium edition has been revised from $238 to $118.
Microsoft had sold around 60 million of Windows Vista licenses world wide as of June. In view of huge population and fast growing rate of PC users in China, it has put special discount price for China consumers, just hoping that they will consider its genuine copies to be installed into their home PC. However, it still depends on their willingness to switch over to original copy, considering that the 'discounted' prices are still lots more expensive than pirated one.