The world's software giant, Microsoft has extended its Xbox 360 line with a new Xbox 360 Games of the Year pack. The new Xbox 360 console is a black, 120GB Elite model and includes both Fable II and Halo 3 in the box. The console also uses the cooler-running "Jasper" architecture and supports HDMI output.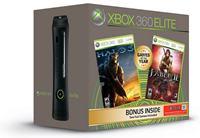 With new Xbox 360, the users can enjoy full year of Xbox Live Gold membership for playing online games, free download vouchers for Halo's Mythic Map Pack and Fable's Knothole Island and a trial for Netflix movie streaming.
The new Xbox 360 is expected to be available soon and the price is unchanged from $400 for the stock version.