Google has an Android Market for Android Phone, while Apple has an App Store for iPhone. Last Month, the world's software giant, Microsoft is also confirmed the plans to launch its Windows Marketplace for Mobile. Recently, Microsoft has announced new details on how the developers can build and sell applications for Windows phone through Windows Marketplace. With this program, Microsoft will provide developers with 70 percent of the sales revenue and the price tag for the application can be at zero cost or starting from as low as 99 cents.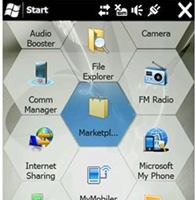 "Microsoft's decades-long relationship with developers has led to some of the most exciting innovations the industry has seen. We'll continue our successful collaboration with developers through Windows Marketplace for Mobile, which will provide a broad reach to customers," said Andy Lees, senior vice president of the Mobile Communications Business at Microsoft Corp. "With the new Windows Marketplace for Mobile and our great development tools, Windows phones represent an incredible opportunity for developers everywhere."
To sell mobile application in Windows Marketplace, the developers will be required to pay for an annual registration fee of $99, which allows them to submit up to 5 applications within the annual period and each additional submission will cost $99. If the developers are student, the registration fee is waived through enrollment in the Microsoft DreamSpark program. Beside that, Microsoft also working with developers to ensure that their applications will run optimally on Windows phones by running a rigorous certification and testing process before applications go to market. 
The Windows Marketplace is expected to debut with the launch of Windows Mobile 6.5 in last quarter of this year.
Update: