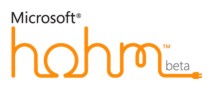 Energy conservation has always been a critical global issue that nobody can neglect. Excessive development and wastage has resulted in incredibly high world energy consumption. Many parties have put in effort to try to reduce consumption by increasing efficiency. Being one of the world's technological giants, Microsoft has joined in the effort by introducing its new service, Microsoft Hohm, an online application which allows users to analyze and understand their home energy usage and hence conserve the energy efficiently.

Microsoft Hohm is built on Azure Cloud Operating System and leverages Bing search as well as the Microsoft Advertising platform. Users can access to this online application via a modern browser easily. Based on the information and feedback from registered users, Microsoft Hohm will feed users with information of personalized energy savings and efficiency recommendations based on users' dwelling conditions, e.g. house features, usage patterns and appliances. If users do not respond to Hohm with this basic information, the online application will then provide general recommendations to assist users in energy saving.
Microsoft Hohm is a free service with no additional costs to users. As a start, the service will be provided to residents in US only. Users can access to Microsoft Hohm Beta version via the link here, which is now opens for public free registration. Energy conservation does not mean saving money only, but also helping to increase environmental value, national security, personal security, and human comfort. A collective effort will ensure the well-being and preservation of mother nature.