Posted:
December 27, 2010
/
Under:
Operating Systems
/
By:
My Digital Life Editorial Team
Still looking for ways to remove and disable Office Genuine Advantage (OGA) validation and notifications? Microsoft has decided to officially axe, kill, shelf, and retire Office Genuine Advantage program, which was released as KB949810 to curb counterfeiting and piracy of Office productivity suites.

Since mid-December 2010, Microsoft has shutdown the Office Genuine Advantage (OGA) program, which was then required for every Office users to pass through the validation prior to be able to download an Office add-in, template or related files. The OGA program is a direct equivalent to WGA (Windows Genuine Advantage) for Office product, and was launched in 2006 to ensure that the installed copy of the software is genuine.
With the end of life for OGA, a short notice has been posted on all OGA-related support KB articles such as through KB949810 that introduces OGA Notifications too, which indicates that all installation of Office, such as Office 2010, Office 2007, Office 2003 and etc no longer subject to OGA validation and notifications (if fail validation). The features of the OGA, including the link of http://www.microsoft.com/genuine/office/WhyValidate.aspx where users can manually validate Office, is no longer active.
The Office Genuine Advantage ("OGA") program has been retired. For more information about the benefits of genuine Office, please visit the following website: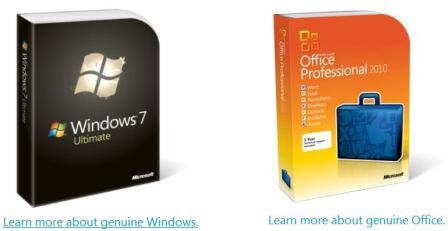 Since its introduction, OGA had drew some criticism mainly due to the possibility of false positives, which incorrectly tag genuine Office users as pirates. To make matter worse, OGA appears to be little success on anti-piracy, where hackers manage to develop ways to cracks which circumvent or bypass the validation check imposed by OGA, where the cracks were widely available on P2P (peer-to-peer) download sites, Usenet, community forums and even selling in CD in local markets.
Note that OGA validation is different from the product activation mechanism that built-in Office products. Each and every new Office installation continues to require end-user to activate the Office software to enjoy uninterrupted usage.
Despite OGA has reached end-of-line, Microsoft continues its policy of giving free genuine Office licenses for counterfeited software which was purchased by customers who were conned to believe it's a real thing, or by fraud.
Microsoft simply says that "the OGA program has served its purpose and thus have decided to retire the program". Rumor is abound that Microsoft may introduces OAT (Office Activation Technologies) which is similar to WAT (Windows Activation Technologies) introduced in Windows 7, or incorporate Office validation into the new anti-piracy mechanism to be introduced as part of Windows 8 (or Windows VNext), so that all Microsoft products are using one protection platform.