The just-leaked Windows 7 Ultimate SLP-OEM product key, i.e. 22TKD-F8XX6-XXXXX-XXXXX-XXXXX, may goes down in history to have the same fate with famous Windows XP corporate volume license product key, FCKGW-RHQQ2-XXXXX-XXXXX-XXXXX, which was also leaked in warez no Windows XP activation VL copy by devils0wn 35 days before official retail release of Windows XP on August 28, 2001.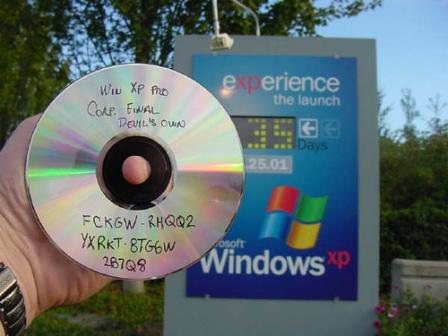 The FCKGW serial key is now obsolete and has been blacklisted by Microsoft since August 2004 with the introduction of Windows Genuine Advantage (WGA) validation program. The 22TKD SLP-OEM product key, which been retrieved from a leaked Lenovo Windows 7 OEM preactivated DVD image, will be blacklisted and blocked, probably via WGA validation process (now together with Windows Product Activation or WPA is known as Windows Activation Technologies or WAT), according to Genuine Windows blog.
The key is for use with Windows 7 Ultimate RTM product that is meant to be pre-installed by the OEM on new PCs to be shipped later this year. As such, the use of this key requires having a PC from the manufacturer it was issued to. We've worked with that manufacturer so that customers who purchase genuine copies of Windows 7 from this manufacturer will experience no issues validating their copy of Windows 7. At the same time we will seek to alert customers who are using the leaked key that they are running a non-genuine copy of Windows. It's important to note that no PCs will be sold that will use this key.
The now famous 22TKD OEM-SLP product key has been the first known Windows 7 RTM activation crack that done properly, unlike the previous undesirable cracks that make use of frankenbuild style Windows 7 RC or even Windows Vista license files to replace original Windows 7 version, and uses the corresponding product key to activate Windows 7 RTM as Windows 7 RC or Windows Vista. The OEM-SLP product key, when paired with proper SLIC table in BIOS and OEM certificate, will activate Windows 7 offline instantly without going online to contact any activation server, just like any genuine copy of Windows pre-installed on any OEM PC.
It's interesting what will happen when the product key is blacklisted via WGA. Technically, a SLP-OEM product key cannot be blocked without modification on Windows 7 validation code, unlikely as Windows 7 already been RTMed, and any change may affect other SLP-OEM keys for other computer manufacturers too. As such, WGA validation may detect a system that uses 22TKD for activation, and prompt that the system is not genuine, but the system will keep activated. Instead, WAT may look for a hack or activation exploit to present before blacklisting the key.
Windows 7 already includes an improved ability to detect hacks, also known as activation exploits, and alert customers who are using a pirated copy. There is a hack that is said to enable, when paired with the leaked key, a system to install and use a copy of Windows 7 Ultimate. Both the hack and the key are indications that a copy of Windows may not be genuine. The Windows Activation Technologies included in Windows 7 are designed to handle situations such as this one, and customers using these tools and methods should expect Windows to detect them.
Anyway, even if the leaked 22TKD OEM product key is blacklisted, ultimately a unblockable OEM-SLP product keys for Windows 7 that delivers with computer machine will be leaked when the goods are shipped in October.