Posted:
November 22, 2008
/
Under:
Operating Systems
/
By:
My Digital Life Editorial Team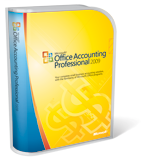 The newest version of Microsoft Office Accounting Professional (MSOA) 2009 has been released and published on Microsoft website for immediate download. Good news is that existing or current users who had already paid for the license and possess genuine legit product key for any version of Microsoft Office Accounting Standard, Plus or Professional (2006, 2007 or 2008) and Microsoft Small Business Accounting (SBA) 2006 can upgrade to the latest version for free with no charge or cost.

Note: Users using freebie version Microsoft Office Accounting Express can always upgrade to the latest version for free, and can now download Microsoft Office Accounting Express 2009 to update existing installation.
Microsoft Office Accounting Professional 2009 includes the following new and improved features:
Create tax preparation reports with the Tax Integration add-in to allow CPAs to export data from Office Accounting into TaxWorks and UltraTax CS.
View accounting information conveniently on your desktop with the Amounts to Pay Today gadget.
Run over 20 new insightful reports, including cash basis versions of many existing reports, as well as Today's Sales by Customer and YTD Sales and Profit Compared to Last Year, and customize them in Excel.
Migration wizards for Microsoft Money 2008 and QuickBooks 2008 migration to simplify converting your clients to Office Accounting 2009.
A new ZIP code feature simplifies the search for support from local accounting professionals.
Improved credit card processing.
The Microsoft Office Accounting Spanish Language Pack 2009 provides Spanish language capabilities and can be easily installed from Microsoft Office Accounting 2009 user interface and product documentation at no charge.
Accountants or CPAs can provide a customized version of Office Accounting Express 2009 for free to current or potential clients. Customization includes prominent placement of an accounting firm's name and an embedded Web page within the program.
So for Microsoft Office Accounting Professional 2008/2007 or Microsoft Small Business Accouting 2006 users with a valid product key, especially users who grab the free Microsoft Office Accounting Professional 2008 licensed product key on MPAN (Microsoft gives away a free copy of Microsoft Office Professional to accountants as one of the membership benefit provided they join the free Microsoft Professional Accountant's Network, MPAN), download and install the MSOA Pro 2009 installation setup file from ideawins.com to upgrade to Microsoft Office Accounting Professional 2009, and activate the software for free at no cost without any activation crack.
The setup installer for full registered product and trial version for MSOA Pro 2009 is the same, only product key used to activate differentiate whether it's a paid version or valid for 60 days evaluation. The direct download link to the setup installation file for Microsoft Office Accounting Professional 2009 is also listed below for users who want to instantly start the downloading process.
Microsoft Office Accounting Professional 2009 Setup: X14-99261.EXE