The Microsoft Office suite is probably one of the most important tools for many users particularly office workers. If the office applications crash or show technical errors, users surely will have a hard time to complete their work on time. Actually many Microsoft Office users are not aware that if the MS Office suite prompts them of problems, they can actually make use of the built-in Microsoft Office Diagnostics tool to identify the business application and diagnose the route of the problem themselves before asking for help from the IS guys.

Microsoft Office Diagnostics is a pretty useful tool which is available in the Microsoft Office 2007 version. This built-in doctor will conduct a series of diagnostic tests to help users find out why the system has halted or why other technical problem have arisen and guide them through to fix the technical problems. The diagnosed data collected will be compiled and kept on the computer. Users can also opt to send the information to Microsoft for further assistance if the problem cannot be fixed. The tests will be conducted by Microsoft Office Diagnostics when users run the tool:
Setup Diagnostic: This test checks for corruption in the files and registry settings in the Office 2007 installation. Files and settings can be corrupted by malicious viruses or by hardware that is faulty or incorrectly configured.
Disk Diagnostic: This test is to test the potential problems with users' hard disk. It checks for errors logged by the Windows system event log or the Self-Monitoring, Analysis and Reporting Technology (SMART) feature of the hard disk.
Memory Diagnostic: This test is to verify the integrity of the computer's random access memory (RAM).
Update Diagnostic: This test checks whether the computer is up to date with installed free service packs from Microsoft. Service packs are designed to make Office more stable. Users will be advised to install the updates available (if any) if they haven't done so.
Compatibility Diagnostic: This test is to identify the conflicting versions of Microsoft Office Outlook that might be installed on the computer. Two different versions of Outlook cannot be installed on the same computer without causing instability.
Check for known solutions: This test is to review the data on crashes of the 2007 Office release that have recently occurred on the system. The test then connects to a server to look for any solutions that might be available for the problems that caused these crashes.
To initiate a diagnostic or "x-ray" scan to the Microsoft Office suite, users can go to Start -> All Programs -> Microsoft Office-> Microsoft Office Tools -> Microsoft Office Diagnostics.

Users can start the diagnostics process through the step by step wizard prompted. Users need to make sure their computer is connected to the Internet durig the process.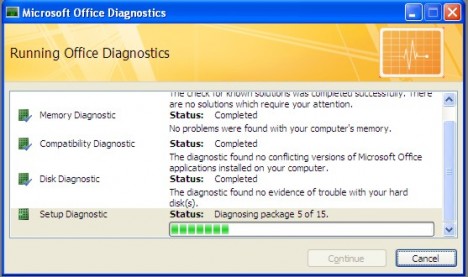 Diagnostics in Progress
Upon completion of the diagnostics process, a summary result will be displayed and the repair (if any) will be fixed accordingly.