Many users have this experience: they are supposed to attach certain documents to their email before sending out to recipients but they forget. This simple mistake creates inconvenience to the sender and the recipients as the email will have to be resent. Besides, it can be quite embarrassing especially if the senders have to send important documents on behalf of their company. A less than professional impression is surely to be avoided. To avoid this unnecessary embarrassment, there are some useful plug-in applications which can help if you are using Microsoft Outlook 2007. These useful applications serve as email filter which will detect and scan your outbound messages for some typical keywords that you normally use when attaching files, e.g. file, attached, attachments, etc.
These email reminder tools will alert or prompt users with notifications or dialog boxes to serve as reminders. Some of these tools include:
Missing Attachment PowerToy
Works only with Microsoft Office Outlook 2007, Missing Attachment PowerToy is a free alerting utility to help users from falling into the aforesaid scenario and avoid needless embarrassment. It will prompt users with a message if the application detects keywords indicating the users intend to attach some documents.

Download Missing Attachment PowerToy via the link here.
Forgotten Attachment Detector
Forgotten Attachment Detector (FAD) is another free plug-in for Microsoft Outlook which functions similarly to Missing Attachment PowerToy. When users send an email, FAD checks it for keywords that indicate users might have forgotten to attach an attachment. If it detects this, it notifies users and gives users a chance to correct any mistakes.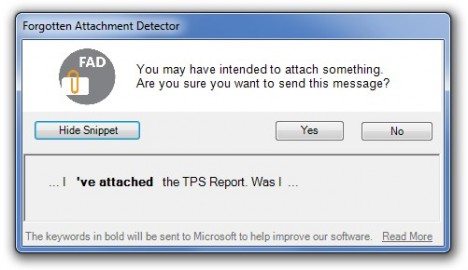 Download Forgotten Attachment Detector via the link here.
Attached4Sure
Another similar reminder plug-in application for Microsoft Outlook is Attached4Sure. This tiny application supports Windows and is available in English, French, German, Spanish, Dutch and Italian. Users need to install .NET framework before installing the application. Download Attached4Sure via the link here.
Users who want to avoid this common mistake in sending out email can try one of the above plug-ins with the Outlook. Of course users who are familiar with coding can add some new macro via the Visual Basic Macro editor to create the same filtering and reminder effect. However, it can be a great challenge for non-tech-savvy users.