Sending SMS using mobile phones becomes part of daily activities especially among youngsters. Sometimes it seems to be a better way of communication using text instead of voice to express own feeling. For myself, I found it to be extremely useful when there is a need to keep a copy of evidence in certain scenarios. I always has concerned of not able to type fast enough as compared to when typing email via QWERT keyboard on the laptop until I discover this useful Microsoft Outlook SMS add-in program. This program will let you send SMS via Microsoft Outlook 2003 or Outlook 2007 that is installed in your laptop or PC, just like ordinary email typing.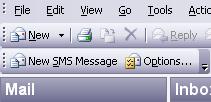 Once after you install the add-in program, you will notice a new button of "New SMS Message" appeared in your Outlook window. Just click on it to open a new typing window and start typing the text message. Like normal SMS, There will be a limitation of 160 characters per message. You need to follow a few steps to synchronous your laptop with your mobile phone either via USB cable, infra-red or Bluetooth so that the SMS will be sent out to the recipients via your mobile phone's modem. Remember, the charges will be incurred into your mobile phone bill so use it wisely.
There are some additional features that worth to be mentioned such as spelling and checking tools, copy and paste function. You can manage the SMS in specific folders like sent, save draft and etc. Furthermore, you can always look up the contact number from your outlook to be inserted into the recipient lists.
The MOSA (Microsoft Outlook SMS Add-in) is available for free download in Microsoft official website. Or you can download MOSA without validation with direct download links. It is compatible with Windows XP, Server 2003 and Vista. Occupying a merely 1.3MB from your hard disk space, I am sure it is worth having one for more effective communication using SMS in the future.