Posted:
September 3, 2009
/
Under:
Operating Systems
/
By:
My Digital Life Editorial Team
Most commercial software products from Microsoft, such as popular Windows operating system i.e. Windows 7, Windows Vista and more, requires a product key to install and activate. Without a product key, Windows will run as evaluation software, and once trial period expires, the operating system will become not genuine and illegitimate to use any longer. Product key, which is a series of 25 characters serial key code string, is used by Windows operating system for several purposes.

For example, when a product key is entered into Windows, it determines, among others:
The edition of the Windows.
The features to unlock and activate.
The license type.
Ways to activate the operating system.
Unique identifier to determine if activation should be accepted.
So how do one check and identify the characteristics embedded in a product key? Microsoft includes a product key generation algorithm and database in each copy of installed Windows in the name of pidgenx.dll. Pidgenx.dll, together with pkeyconfig.xrm-ms, is probably used by Windows activation system to verify and validate, or blacklist a product key input by end-user, especially during initial installation when there is no Internet access to connect online.
By using product key database and algorithm in pidgenx.dll, a few programs have been developed to check the license channel, license type, edition and many other information of the Windows product key. These programs include Microsoft PIDX Check and Windows 7 Product Key Checker.
Microsoft PIDX Check
Probably the first and original product key checker, Microsoft PIDX Check has been included in many one-click activation crack for Windows Vista. It can retrieve, PID (Product ID), ID1, ID2, Type, Subtype, Class and Crypto ID of the product key.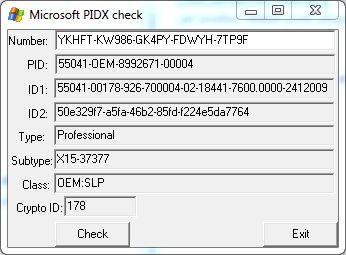 The followign Microsoft PIDX Check has been updated with pidgenx.dll from Windows 7 RTM Build 7600.16385 to support Windows 7.
Download Microsoft PIDX Check: CHKPIDS_Win7.rar
Windows 7 Product Key Checker
Windows Product Key Checker is developed by Russian programmer, and has an updated for Windows 7 RTM Build 7600.16385 by using the new pidgenx.dll. Windows 7 Product Key Checker also has enhanced on graphical user interface, with full description of the every fields of the product key, namely Product ID, Extended PID, Activation ID, Edition ID, License Type, License Channel, and Crypto ID.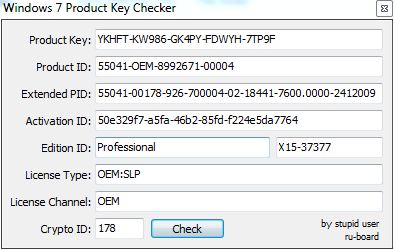 Download Windows 7 Product Key Checker: Windows7.PID.KEY.CHECKER.v.1.0.1.rar