Microsoft Recite is an application program for Windows Mobile devices that enables user to search in voice recording. With Microsoft Recite, user can simply use the voice to easily store as sound clips, and then search and retrieve the audio clips which contained specific said phrase user wants to remember, where and when user needs them.

There are plenty of voice recording device in the market, but most does not allow user to search the content in the audio clip after saving. Recite will change the trend, and make the voice recording, or voice note searchable.
In the announcement, Microsoft describes that Recite voice search makes it easy to retrieve your stored thoughts and notes by using voice pattern matching. It analyzes the patterns in your speech and finds matches between two recordings — the notes you stored on your phone, and the search you do using your voice. With Recite you can store thousands of spoken notes, and then later retrieve the notes you want based on a match with your search term(s). This is different from speech recognition, which has to accurately convert spoken words to application-readable input.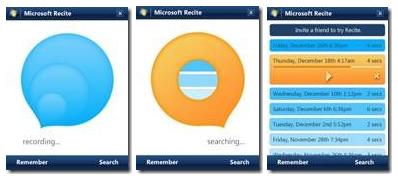 Microsoft Recite has been made available for general public free download as Technology Preview (aka beta). Currently, only several mobile devices are officially supported, although theoretically all Windows Mobile devices running Windows Mobile OS version 6.0 or higher can use Recite, and earlier version of Windows Mobile devices can also download and install Recite after installing Microsoft .NET Compact Framework 2.0 or higher. The officially supported devices are AT&T Blackjack II, AT&T Pantech Duo, HTC Diamond, Motorola Q9C, Moto Q9m, SMT 5800, T-Mobile Dash, T-Mobile Shadow, and T-Mobile Wing. Additional requirement to use Recite during Technology Preview phase is that the phone has to have a directional pad (D-pad), and Bluetooth earpiece is not supported.
Download Microsoft Recite from http://recite.microsoft.com/ via mobile browser, ActiveSync installer, or via SMS. Recite Technology Preview is free, but standard carrier rates apply to the data sessions and download time to download Recite via mobile network to the mobile device.