Microsoft Security Essentials (MSE) saves a lot of money for many Windows users, who no longer requires to fork out cash to buy third-party anti-virus, anti-malware or Internet security solution which requires yearly subscription renewal. To improve the performance and security protection of the computer, Microsoft is developing the next version of MSE, Microsoft Security Essentials version 2.

Microsoft is releasing the first beta for the next version of Microsoft Security Essentials. The first version of Microsoft Security Essentials was first released in September 2009. The new features in the beta of Microsoft Security Essentials include:
Windows Firewall integration – During setup, Microsoft Security Essentials will now ask if you would like to turn the Windows Firewall on or off.
Enhanced protection for web-based threats – Microsoft Security Essentials now integrates with Internet Explorer to provide protection against web-based threats.
New protection engine – The updated anti-malware engine offers enhanced detection and cleanup capabilities with better performance.
Network inspection system – Protection against network-based exploits is now built in to Microsoft Security Essentials.
However, the network inspection system feature will not be enabled on Windows XP, as the network inspection system requires the Windows Filtering Platform (WFP) which only available in windows Vista and Windows 7 in order to run.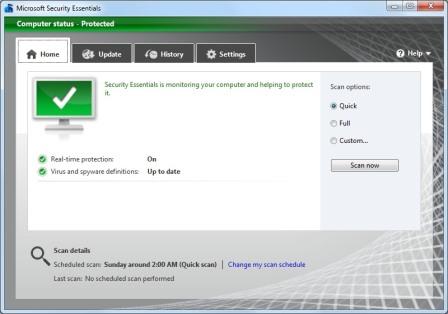 Microsoft Security Essentials 2 Beta is available from Microsoft Connect in both 32-bit and 64-bit versions to genuine Windows users on a first come, first serve basis until the allotted spots for the beta have been reached. And MSE2 Beta available only to customers in the United States, Israel (English only), People's Republic of China (Simplified Chinese only) and Brazil (Brazilian Portuguese only), although most likely everybody worldwide can join Connect to download it in English version.
The released build number of Microsoft Security Essentials 2 Beta is 2.0.0375.0.
Download Microsoft Security Essentials 2 Beta from https://connect.microsoft.com/securityessentials.
Registration required, otherwise download the Microsoft Security Essentials Beta v.2.0.0375.0 from the following links:
32-bit English (x86): mseinstall_en_us_x86.exe
64-bit English (x64): mseinstall_en_us_amd64.exe
Update: Microsoft Security Essentials (MSE) 2 Final Download