The world's veteran software company, Microsoft has recently introduced its second application for iPhone known as Microsoft Tag after the release of , first ever Microsoft application for iPhone. Mircosoft Tag is a whole new technology which developed in house by Microsoft Research known as High Capacity Color Barcodes (HCCBs).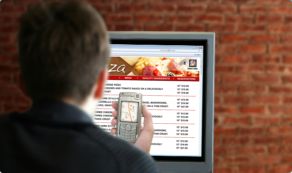 With Microsoft Tag application, the users can simply pointing the phone camera to a custom tag for instantly access mobile content, video, music, contact information, maps, social networks, promotions and etc. Microsoft Tag is a unique two dimension codes which uses triangle shapes and colors to store data. Actually, Microsoft Tags doesn't store more data except a unique ID which can fetch more data stored on Microsoft server.
Microsoft Tag does not only available for iPhone but it also available for Windows Mobile, J2Me, Blackberry and Symbian S60 phones. The details information of this application can be accessed through Getting.mobi.